Battery Warmers
Kim Hotstart offers battery warming pads and thermal wraps with built-in thermostats for warming batteries. Even if your engine is nice and warm it won't start if your battery can't turn it over it. Kim Hotstart's low wattage design battery heaters will maintain cranking power in your batteries when the temperature is below 0°F. Available in 120 or 240 volt for any size battery, the unique design of the Hotstart battery heaters allows you to connect two or more pads together to accommodate multi-battery installations. Battery warmers feature: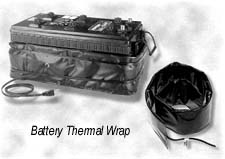 Engineered to maintain batteries at 80°F/27°c to ensure full cranking power
Flexible Silicone rubber pads can be used under the battery to heat from the bottom up
Blanket-style heaters and pad heaters are impervious to battery acid and oil
All standard battery heaters come with 6 ft. ground cord
Pad models for multiple battery applications available with accessory cords and thermostat assembly
Blanket-style warmers provide greater heat rise than plates or pads
Kim Hotstart Silicone Hot Pads are flexible and easy to install and are also ideal for oil pans, hydraulic reservoirs, engine blocks, and hydraulic cylinders. The durable silicon/fiberglass cover resists abrasion.
Easy peel and stick application
Etched foil heating element for optimal heat transfer and long life
Assembled with a standard 6 ft. HPN cord and plug