maesco.com is a distributor for Lister-Petter Industrial Engines and sells, installs,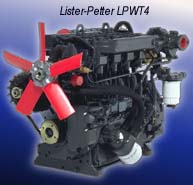 and provides parts and service for these engine lines. Lister-Petter engines are rugged, reliable and simple to operate, which makes them popular with equipment manufacturers and users alike. From commercial mowers to gensets, fork lifts to lighting towers, trenchers to loaders LP engines continue to prove that they can do the job. With experience of designing many thousands of diesel and gas engines for applications at all temperature, environmental and location extremes, Lister-Petter is best placed to develop an engine that will deliver peak performance from your equipment. The LP engines have been divided into different categories or series; the A Series, L Series, LPA "Alpha" Series, LPW "Alpha" Series, LPWS "Alpha" Series, LPWG "Alpha" Series, T Series, and the Delta Series.
Lister Petter's newest range of engines: 4 X 90, 3 X 86, 4 X 86, 3 X 90, and 4 X 90T. They are available in both diesel and gas versions.
The AC1 and AD1 engines in this series are both one cylinder, air-cooled direct injection diesel engines. These engines are built with a light weight aluminum alloy crankcase.
The LT1 and LV1 engines are both one cylinder, air-cooled direct injection diesel engines. They are built with a cast iron crankcase for durability.
The Alpha Series
Alpha Series engines are used in a vast array of applications. They are easy to install, low maintenance, and economical to run. There are a wide range of different accessories available, from air cleaners and radiators to exhaust systems and deep sumps, so that you can specify a unique build customised to meet your specification, your performance requirements and your installation needs.The Alpha Series is split up into the following series:
The TS1, TS2, TS3, TR1, TR2, TR3, TX2, and TX3 are all air-cooled direct injection diesel engines.
The DWS4 is a 4 cylinder, water-cooled indirect injection diesel engine. If there is a tough job to be done, Delta has the power to take it on. They have the power to tackle the toughest mobile off-road applications like skid-steer loaders, excavators, or telescopic handlers and the demands of heavy gensets pumps and compressors.