maesco.com features Hale MaxStream portable pumping units. These units come from Hale complete with pump unit and engine and are suitable for a variety of high pressure water pumping applications. maesco.com can also engineer a pumping solution to meet your specific needs using a Hale pump head. Hale pumps are ideal for water applications which require high pressure.
Maesco Fabricated Hale Units:
These convenient quality made portable units are fabricated by Mid-Atlantic Engine Supply Corp. Both units come with a Hale 30FB pump end with a 3" inlet and 3" outlet and have a typical output of 135 GPM @ 100 PSI or 300GPM @ 20 PSI. One of the units is powered by a Honda gasoline engine and the other unit is powered by a Lister LPA2 air cooled diesel engine.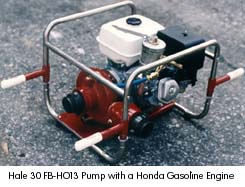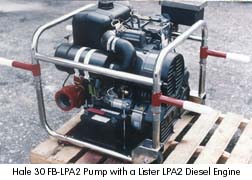 Hale's MaxStream pumps are rugged, tough, and engineered to perform where others can't.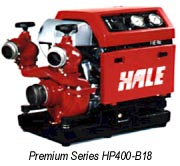 Whether you're fighting a forest fire, a grassland blaze, or a burning house, you need a pump that is reliable and durable enough for any circumstance. The MaxStream series is also perfect for construction and industrial applications that require high pressure water such as jetting in pilings.
Hale MaxStream pumps are available in three series:
The Premium Series - These units are fully enclosed units with full instrumentation. Standard features also include an integrated base fuel tank, fold out carrying handles and rotating discharge valves. The Premium Series is powered by the Briggs & Stratton Vanguard 18 HP engine and can provide up to 340 PSI or flows up to 500 GPM.
The Trans-Portable Series - These are light, compact units that come equipped with an integral steel base, carrying handles, and a separate fuel tank. The Trans-Portable series unit typically weigh 150 lb. or less and is available with pressures up to 340 PSI or flows up to 500 GPM. Depending on the unit, they are powered by the Briggs & Stratton Vanguard 18 HP engine, the Briggs & Stratton IC Plus 11 HP engine, or the Yanmar Diesel 10 HP engine.
The X-Stream Series - These units are configured for permanent mounting on all types of equipment including trailers and trucks. The unit is mounted on a steel skid plate base that can be easily attached. The rail base includes all required hardware and vibration isolators. A remote operations panel is included. Depending on the unit, the X-Stream series is powered by a variety of gasoline and diesel engines.
Hale also manufactures several portable specialty units:


20FV-C8 and 20FP-C8 Fyr Flote Portable Floating Pumps - These are lightweight, portable, centrifugal pumps mounted on an unsinkable, high-strength polyethylene float with dual carrying handles and splash suppression collar. The Fyr Flote units weigh only 49 lb. but can reach pressures of up to 175 PSI, depending on the unit.
20FV-C8 .pdf file (183 K)
20FP-C8 .pdf file (206 K)
Chief II Floating Pump - The pump/engine assembly in the Chief II floating unit easily detaches from the float assembly which folds in half for easy storage. The Chief II weighs only 115 lb. but is designed for high volume pumping in as little as 3" of water. The Chief II can pump up to 400 GPM.
Cheif II .pdf file (164 K)
20FP-C8 Fyr Port - This little portable unit weighs only 50 lb. but can achieve up to 220 PSI.
Fyr Pak Backpack Pump - This lightweight, portable unit is mounted in a padded adjustable backpack frame and pumps up to 220 PSI.
Fyr Pak .pdf file (100K)









maesco.com can also engineer and build pump units using Hale pump ends for your application. See the Custom Hale Units page for more examples. Hale Pump Ends feature: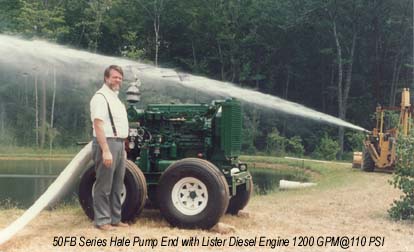 Close coupled pump - Pump and gear box assembly are bolted direct to the engine housing which eliminates couplings and assures perfect alignment
High efficiency - Close tolerance machining of impeller and wear rings assures highest efficiency.
Suction sizes from 2" NPT female to 8" female flange
Discharge sizes from 1 1/2" NPT female to 6" check valve Female NPT
Enclosed type bronze impellers for maximum efficiency, strength and corrosion resistance
Pressures up to 325 PSI or flows up to 3000 GPM
maesco.com engineered and built units cover a wide range of applications such as trailer mounted portable fire fighting units and jetting units for well pointing or pile driving. These units can be built with many different configurations and options to meet your needs. They can be powered by Caterpillar, Lister, Iveco, Volkswagen, or other diesel engines, or an appropriate gasoline engine.