maesco.com has been delivering pump units for over 30 years using MP pumps! MP pumps have long been recognized as the workhorse pumps of industry including applications in construction, fluid transfer, trash pumping, and dewatering. MP builds End-Suction Pumps for higher pressure applications, Flomax pumps for self-priming maximum flow, pumps for trash pumping, and a variety of specialty pumps for applications such as hot liquid and chemical transfer. MP pumps are available with a wide variety of options and configurations. maesco.com can also engineer and custom build a unit for your application.
End-Suction Centrifugal

MP has a complete line of end-suction centrifugal pumps suitable for higher pressure applications. These pumps are also known as "Straight" pumps. These are available in a variety of materials, impeller sizes, and configuration options depending on the unit. Many units feature close coupling with an electric motor which eliminates alignment problems. Most units are also available with MP's PUMPAK which means the unit comes equipped with a mounting suitable for a standard NEMA "C" face motor.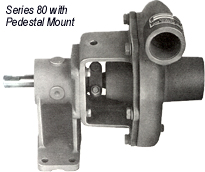 Series 30 - 1" X 3/4", 48GPM @ 3450 rpm
Series 60 - 1 1/4" X 1", 60GPM @ 3450 rpm
Series 80 - 1 1/2" X 1 1/4", 80GPM @ 3450 rpm
Series 110 - 1 1/2" X 1 1/4", 105GPM @ 3450 rpm
Series 120 - 2" X 1 1/2", 200GPM @ 3450 rpm
Series 130 - 2" X 1 1/2", 180GPM @ 3450 rpm
Series 200 - 2 1/2" X 2", 320GPM @ 3000 rpm
Series 300 - 3" X 2 1/2", 500GPM @ 3450 rpm
Series 600 - 4" x 3", 800GPM @ 3450 rpm
Series 700 - 4" X 3", 800GPM @ 1750 rpm
Self Priming Centrifugals

MP's well known FLOMAX series of pumps are self-priming centrifugal pumps and come in sizes from 1 1/2" X 1 1/2" to 4" X 4" with flows up to 45,000 GPH. This family of pumps includes the FLOMAX 5, the FLOMAX 8, the FLOMAX 10, the FLOMAX 15, and the FLOMAX 40. These pumps come with a wide variety of options and equipment including close coupled electric motors, MP's PUMPAK for mounting your own standard electric motor, gasoline or diesel drive mounts, hydraulic drive, or clutch PTO. For FLOMAX specifications, see the FLOMAX page.
Trash Pumps
MP also manufactures a 2" and 3" trash pump. Parts are available for a 4" and 6" trash pump. These workhorse units are known for their flexibility and durability. See the Trash Pump page for detailed specs.
Special Service Pumps
MP also engineers and builds pumps for a variety of other purposes. These pumps include:
Browse the Special Service Pumps page for more information on these pumps as well as other pumps which address special purpose applications
Configurations and Options
MP builds pumps and pump units in a wide range of materials, configurations, and options. Some of these are covered on the Special Service Pumps page. Units can be close coupled or long coupled, pedestal mounted, come with base assemblies, have an electro magnetic clutch, etc. Call maesco.com and discuss your pumping application. If MP doesn't have a prebuilt unit to meet your needs, maesco.com can engineer and build you a custom unit.