maesco.com offers pump units for all types of applications: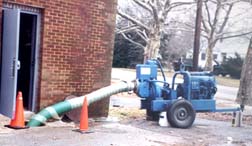 Construction drainage
Sewage bypass
Agriculture irrigation
Marine
Portable fire fighting
Sludge
Water
Trailer or skid mounted
Wellpoint dewatering
Industrial fuid management
maesco.com features Sykes pumps for general pumping duties. Sykes pumps feature:
General purpose - handles everything from clear water to heaviest sludge and slurry
High speed road trailer, four wheel site trailer, or skid mounted versions
Hard-wearing cast iron parts and corrosion resistant materials throughout
No-fuss Sykes Univac automatic priming system
Ease of maintenance - shaft seals can be changed in minutes
Hours of unattended operation of intermittent flow
Choice of engines including gasoline or diesel water cooled
Low center of gravity - easy and stable to tow
maesco.com offers Sykes pump units in 440, 1700, and 2750 GPM capacities (click for specifications).
Also see the Hale Products page for fire pumps and other Hale products.