Mid-Atlantic sells as well as installs and services engines and generator sets on boats. Mid-Atlantic installed an FPT / Iveco 8210SRM45 Marine Propulsion Engine and a 8045 40 kW Generator Set on a vessel owned by Capt. Bob Brewster. Capt. Bob Brewster owns two long-lining vessels, the F/V Snoopy and the F/V Eaglet, which fish the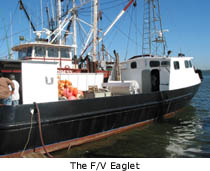 Atlantic fishery from New England to Puerto Rico with a home port of Barnegat Light, NJ. In 1995, the F/V Snoopy was repowered with an FPT / Iveco 8210SRM36 developing 330 hp @ 1800rpm. This installation accompanied an FPT / Iveco 8031 30 kW generator set that was already on the vessel. In 2002, the F/V Eaglet was repowered with an FPT / Iveco 8210SRM45 which is rated continuously heavy duty at 400 hp @ 1800rpm. Also installed was an FPT / Iveco 8045 40 kW generator set. Since the installation of the FPT / Iveco 8210SRM36 in 1995, with running hours now exceeding 16,000 hrs., except for normal maintenance there has been no major expenditures for engine repairs. The repower installations, while increasing horse power on the vessels decreased fuel usage by approximately 25% - 30%. The vessels picked up 3 to 4 knots per hour after repower.
FPT / Iveco 8210SRM45 Engine installed on F/V Eaglet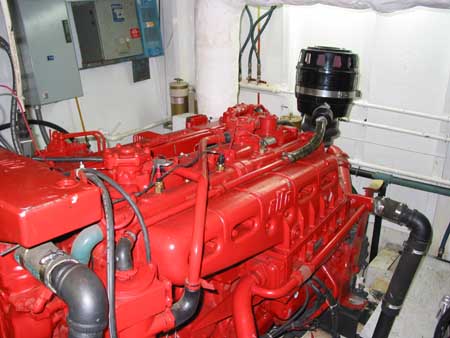 FPT / Iveco 8045 40 kW Marine Generator Set with Racor Crankvent Installed on F/V Eaglet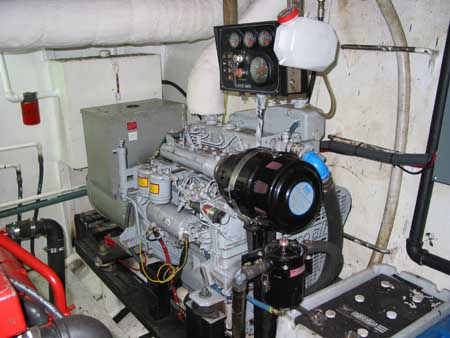 FPT / Iveco Motors Marine Propulsion Engines
With over 15 million engines produced, of which 4 million are still in service, and with an engine annual production of over 400,000 units, FPT / Iveco is one of the largest manufacturers of diesel engines in the world. Performance that is not extreme, durability, reliability, low consumption and easy maintenance are the main elements of the company's manufacturing philosophy. Specifically, decades of experience in developing specific products for professional applications have led to developing

production technologies and optimised components for all sectors of marine applications. FPT / Iveco's marine propulsion engines are currently represented by a vast range of basic FPT / Iveco engines, adapted for marine use with components such as; heat exchangers, sea water pumps, etc. maesco.com offers two ranges of FPT / Iveco Marine Propulsion Engines:
Pleasure Range
Applications in the pleasure duty range include motor yachts, flying bridge cruisers, express cruisers, day cruisers, sports-fishing, etc.
Commercial Range
Applications in the commercial duty range include passenger transport boats, fishing boats, police launches, pilot craft, dredgers, etc.
Lister-Petter Marine Propulsion Engines
Lister -Petter offers air-cooled or water-cooled marine propulsion diesel engines for sailboats, workboats, leisure and commercial crafts. Lister marine engines are designed and built to their traditional standards of reliability, economy, and long life.
LPA2 / LPA3
The LPA2 and LPA3 engines are air-cooled marine propulsion diesel engines for leisure and commercial craft. They are 2 (LPA2) and 3 (LPA3) cylinder naturally aspirated direct injection engines. Both are built with a ribbed, thin-wall cast iron crankcase for quiet operation. These engines are simple to operate, easy to maintain and have excellent fuel economy.
LPW2 / 3 / 4, and LPWT4
The LPW2, LPW3, and LPW4 engines are water-cooled direct injection marine propulsion diesel engines. They are 2 (LPW2), 3 (LPW3), and 4 (LPW4) cylinder engines. These engines have exceptional power, instant starting, and long oil change periods. The LPWT4 is a turbocharged water-cooled direct injection marine propulsion engine. It has a high compression turbocharger with 40% more power than the naturally aspirated 4 cylinder in virtually the same size and weight .