Lister-Petter, Inc. (LPI) has been designing and assembling diesel and gaseous powered generator sets since 1984, when it first introduced the Hawkpower® brand genset, powered by the well known line of Lister-Petter diesel engines. After years of testing and developing generator sets to exacting customer specifications, no one knows how to engineer and fabricate a genset better than LPI.
LPI now offers an expanded generator set line with complete coverage from 5 to 400kW for continuous or standby power. These gensets have been engineered, precision assembled, and tested by LPI to provide reliable, low-cost power for continuous or standby applications in a wide range of industries: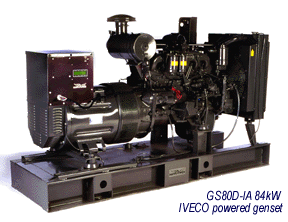 Fire/Rescue
Construction
Airport
Irrigation
Mining
Medical
Industrial
Telecommunications
Rental
Marine
Military
Railway
These gensets are marketed under the Hawkpower® brand and are powered by world-class engines:
Lister-Petter air and liquid-cooled diesel engines from 4 to 70 horsepower.
IVECO Motors industrial heavy-duty liquid-cooled diesel engines from 35 to 500 horsepower.
LPI is the master distributor for the Western Hemisphere of Lister-Petter heavy duty engines; the master distributor for North America of IVECO's range of heavy-duty, liquid-cooled diesel engines from 35 to 500 horsepower and gaseous-fueled engines from 45 to 435 horsepower; and the Volkswagen Industrial Engine distributor for the United States and Canada. maesco.com is a distributor for these engines and sells, installs, and provides parts and service for these engine lines.
The Hawkpower®
Brand
LPI offers an ever-increasing portfolio of complimentary engine-driven products under the Hawkpower brand name, including light towers and pump units. maesco.com is an authorized distributor of the Hawkpower® brand products. maesco.com has the expertise to assess your application, sell and install a genset to meet your specifications, and provide the followup parts and service to keep your genset running.
Designed to provide a reliable continuous load-rated power source of electricity wherever electric service is either unavailable or impractical
A selection of air-cooled or liquid-cooled, naturally-aspirated or turbocharged, diesel or gaseous-fueled engines by Lister-Petter, Volkswagen and IVECO, is available, which can be supplied with a variety of optional accessories to suit your preferences and/or special applications.
Various levels of instrumentation and controls are available including manual electric start, simple autostart, or delux autostart with monitoring options. All units are equipped with an automatic safety shutdown system that monitors engine oil pressure and water temperature.
Optional steel weather-resistant enclosures are available. These can also be fitted with noise-attenuated material and baffles to achieve noise levels below 70 dBA's at 7 meters at full load.
The design of all gensets includes a close coupled, brushless alternator to reduce service and maintenance.
Follow the links below or the menu to the left for Hawkpower® generator sets in the power ranges in which you're interested:
| | | |
| --- | --- | --- |
| Range | Fuel | Description |
| 0-20 kW | Diesel | |
| 0-18 k-W | Gaseous | |
| 0-35 | Diesel | |
| 40-125 kW | Diesel | |
| 150-400 kW | Diesel | |
Click here for the complete list of Hawkpower Diesel Gensets.
Click here for the complete list of Hawkpower Gaseous Gensets.
Click here to view the Hawkpower Rental Gensets. Click here for genset standard features, and here for optional features. You can also use the menus to the left for these links.