maesco.com has been engineering and building pump units for custom applications for nearly 30 years. Depending on your application we can build a unit to meet your needs. See below for examples of maesco.com engineered and built units.
Hale portable fire fighting units
maesco.com has built a number of these units. They can provide fire truck pumping performance at a much lower price. The units feature:
Pressures up to 160 PSI with GPM up to 3000
8" Suction and 6" Discharge
5" Storz Outlet, four 2 1/2" hose outlets (other manifold configurations available)
Electric priming system
Draft from pond or hydrant
Highway trailer mounted
Stowage for suction and discharge hose
Can be equipped with fire monitor
Diesel or gas engine available
Other pump sizes available
Hale Portable Fire Pump powered by Cat Diesel Engine

Hale Pile Jetting Pump
This unit uses a Hale 50FB pump end powered by a Lister diesel engine and was built for a contractor to jet in pilings. It features a flow of 800 GPM@100PSI.
Hale 50FB powered by Lister diesel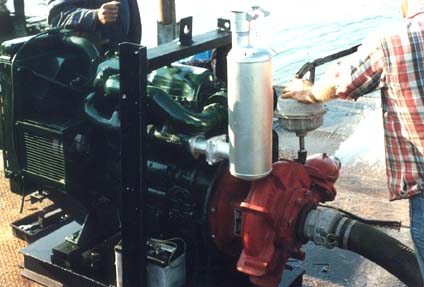 Hale Trailer Mounted Pump Unit

This unit was built for a high flow and uses a Hale 50FB pump end powered by Lister liquid cooled diesel engine.

Hale 50FB powered by Lister, typical output 1000 GPM@110 PSI