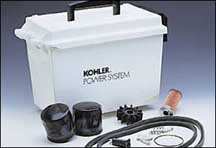 Marine Generator Accessories
Designed by Kohler engineers to maximize your generators functionality, Kohler generator accessories also maximizes your boating enjoyment. From protection to performance enhancement, Kohler generator accessories keep you covered on the water.

Sound Shields
Stylized sound shields deliver exceptional sound attenuation for Kohler marine generators. A modularized, aluminum panel system allows quick access to maintenance checkpoints. The sound shields are compact for tight installations and can easily accommodate options like front-mounted PTO's.
Remote Harness
Connects the generator to an existing remote panel without disassembling the controller and rewiring the terminals.
Sea Spares Kit
Be safe and prepared on the water with a Kohler Sea Spares Kit on your yacht or cruiser. This durable, protective utility box contains the genuine marine parts you need for emergencies and general maintenance.
Remote Start Kit
Allows generator set operation from a remote location.
Remote Start Two-Meter Panel Kit - Includes illuminated engine oil pressure and water temperature gauges.
Remote Start Four-Meter Panel Kit - Includes all the features of the two-meter kit plus a DC-voltmeter and hourmeter to record total generator running time - a valuable reminder for scheduling routine maintenance.
PTO Attachment (Power Takeoff Kit)
Available for the 15C and 20C models, this versatile PTO adapter kit conveniently accommodates up to two hydraulic pumps mounted at the front of the generator set.
Circuit Breaker
Kohler offers a wide selection of circuit breakers to protect your generator from power overload.
Ship-to-Shore Kit
Allows immediate switching between Kohler generator set power and shore power. Protects electrical system from simultaneous connection and prevents back feed to the alternate power source.
Pre-Heat Kit
Aids starting in cold climates on diesel models.
Siphon Break Kit
Prevents sea water from being siphoned into the engine. Required for all generator sets installed below the waterline.